Prices:
1 Hour €8
2 Hours €11
3 Hours €14
4+ Hours €15
30 Day Pass €60
FREE 1HOUR SESSION WHEN YOU SPEND OVER €50.00 IN STORE
Rentals:
Skateboard / Scooter €5
Helmet / Pads €2
Helmet and Pads €3
(All Rental Items MUST be Returned in the Same Condition as they were when taken, Users will be liable for any Damage or Repair costs incurred)
back to top


About Wreckless Indoor Skatepark
Wreckless Indoor Skatepark opened at our current locaion in August 2015, across two units in Gorey Business Park just outside of Gorey town in Co. Wexford. Wreckless Offers an Indoor park with exclusive features and obstacles not found in other parks around the country as well as featuring a fully stocked Skateshop on location with Skateboarding, BMX, Scooter, Inline Skating and Roller Derby Hardware and Soft Goods available for purchace
| | | |
| --- | --- | --- |
| Street Section View 1 | Street Section View 2 | Street Section View 3 |
| Mini-Ramp View 1 | Mini-Ramp View 2 | Mini-Ramp View 3 |

Events at Wreckless Indoor Skatepark
Here at Wreckless We make a concerned effort to host events often and to the best of our abilities. Having Being involved with orgainzing and Hosting a number or Events at our park, Including Quailifers and Finals for both the All Ireland Skateboarding and Scooter Riding Championships, Video Premieres for Plan B Skateboards True Video and Jenna Selbys indepenedent Scene Video Days Like These as well as Camps, Workshops and a number of jams through-out the year.
These Events are invaluable to the action sport comunities and scenes both locally and nationally giving people to oppertunity meet with other people they may not have had the chance to meet and allow them share their interests and improve their abilities together
All Events at Wreckless are posted to both our Facebook Page and Our Websites Events page as soon as they are announced and links to both pages can be found below
Wreckless Skateshops Facebook Page
Events Page on www.wreckless.ie

Parties at Wreckless Skatepark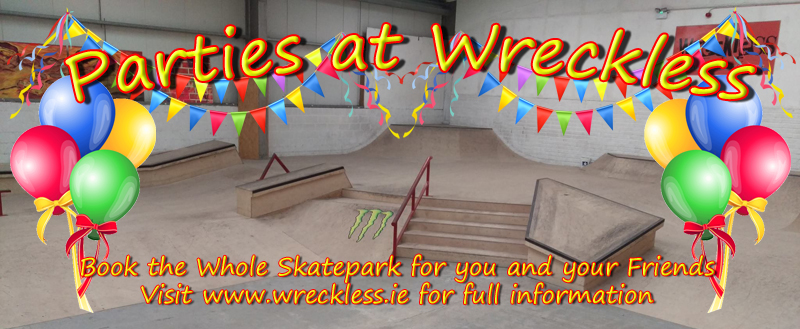 Interested in doing something different for your next party? Wreckless have you covered!
Wreckless Indoor Skatepark is available for private sessions, an ideal idea for the Skater, Bmxer or Scooter Rider with something to celebrate. For Birthdays, Communions, Confirmations, Exam Results or anything else you'd like to get together with your friends for.
You can book the Skatepark for 3 hours. You will have the park completely to yourselves with plenty of time to try any tricks, hit any obstacle or try any challenge in the park without having to worry about anyone being in your way.
Please bring your own music and playlists and use the inhouse stereo to add your own soundtrack to the party.
Pricing:
Monday to Friday €90.00 for 2 hour session or €120.00 for 3 hour session.
Saturday or Sunday 11am - 2pm €110.00 for 2 hour session or €150.00 for 3 hour session.
Terms and Conditions:
Monday to Friday from 12pm onwards, last slot is 5 - 8pm Saturday or Sunday 11am - 2pm only (other times available at an extra cost)
Instructors available at additional cost
Skateboards, Scooters, Helmets and Pads included in prices however supplies may be limited
Maximum 25 children (more at an extra fee)

Emails us to book your Private Party
Wreckless Indoor Skatepark is Open to the Public 7 days a week and is for the use of Skateboards, BMX Bikes, Scooters, Inline and Quad skates
All users of the Skatepark must fill out a consent for before they use the park which must be signed by some one 18 years of age or older. Consent forms are available at the counter on arrival or they can be downloaded from the link below
Wreckless Skatepark Terms and Conditions Wavier
Skatepark Users under 16 years of age must wear a helmet at all times when using the park, for users over 16 years of age protective gear is not mandaory but is recomended
Snacks and Drinks are available for purchase from the shop, there are also a number of cafes and resturants in Gorey town
back to top


Videos of the park



back to top